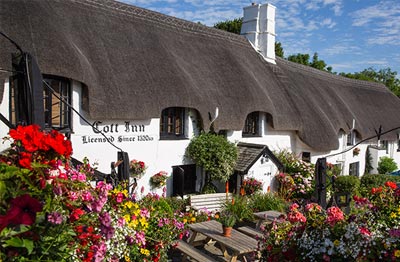 The Best Pubs and Restaurants around…
The closest pub is the Durrant Arms in Ashprington, it has recently changed hands and they have made some good improvements including a flagstone bar area which has some lovely local beers (so I'm told!), a great Gin shelf and a good wine list. We ate there last night, there was a nice simple pub food menu – the kiddies had fish and chips which they loved (homemade tartare sauce, proper chips AND good mushy peas!) We had grown up fish and chips and a whole artichoke stuffed with goats cheese (very locally sourced – made at the top of the Shippon drive!) and spinach, which was really good. You can walk down to the river and along the footpath to Ashprington, it takes about 30 mins, or 5 minutes by car.
We recently went out for sunday lunch at the Cott Inn, Dartington. Its about 10 minutes drive from the Shippon and we had a delicious lunch with lovely wine and great local beers. All of the meat was from locally sourced farms and the puddings were yummy. Mark (the owner) and his team of staff were really friendly and accommodating and I would definitely recommend to you all. Theres a big space inside so can easily cater for big groups and a lovely garden outside. They also have lovely rooms if you have extra guests who you can't fit into the Shippon or just want to stay in a lovely pub!
The Malster Arms in Tuckenhay is a great place for a drink, right next to the River within 30 minutes walk or 5 minutes by car. The food is very average with long waiting times – so we suggest just a drink!
The Waterside Bistro, Totnes has had some good reviews from guests who recently went there, good food, great service and nice spot by the River Dart.
Rumours Winebar in Totnes is also very good.
Dartmouth (20 minutes drive) is where the brilliant Mitch Tonks has set up his Seafood empire, there is the lovely Seahorse which is excelent and he has expanded his empire with a fish & chip restaurant and takeaway, Rockfish.
Fish and Chips in Totnes, I would recommend Albatross on the High Street in Totnes.
Fish and Chips on the beach – I would recommend The Boat House in Torcross, its great! But currently being renovated following a severe fire so try the Start Bay Inn next door, it's also good.
There are lots of other great places to go – just let me know if you are after something specific.